CASE STUDY: Young Woman with a severely injured knee
The following is a true case study from the Ann Arbor Russia with Love committee in their support of the poor in Moscow. The representative for Russia with Love in Moscow is Constance Meyer, a Danish social worker who has been working there for many years. This case is well documented because the entire negotiation was carried out by e-mails.
---
October 19, 2007 -- E-mail from Julia of Moscow, Russia; forwarded by Connie Meyer to the Russia with Love Committee in Ann Arbor:
Application
I'm in need for a financial support for my disabled daughter who needs an operation.
My daughter Polina was prematurely born on 09.08. 1994 (on the 7th month of my pregnancy), her weight was 1,5 kg and we stayed in the hospital for a long time. She was very slow in her development, moved a little and couldn't sit down when she was expected to. Then "infantile cerebral paralysis, left hemiparesis" (the paresis of her left arm and leg) was set as a diagnosis. I spent my whole time taking care about my daughter and I couldn't work. We tried to use all possibilities to make her develop including regular massage, physical training, acupuncture, physiotherapy, speech development, singing, special riding for disabled children.
Our father left us, helps us seldom and unwillingly.
In January 2006 Polina fell down in school, got a left knee injury, which was somehow connected with her main diagnosis. She stayed in the 7th hospital for children in Moscow and was diagnosed – "left gemartrosis" (which means a hemorrhage in her knee-joint). She was punctured and then put in a plaster for 4 weeks.
She missed three months of school. After 4 month "recurrent subluxation" was set as a diagnosis (it comes out up to 5 times day even after the slightest movement).
We were sent to the Central Hospital of Traumotology and Ortopedics. Doctors said that it's better to make the operation in summer, because the operation is followed by putting plaster bandage for 5 weeks.
While she was inspected, it came to out that one bone fragment is broken off. Considering her main diagnosis and her X-arcuation of her legs the operation is much more complicated than expected.
Operation itself
Staying in the hospital for 7 days
Analysis, investigations, doctor's examination
Ultrasound (echographia) 3D of the knee-joint
Postoperative hall stay
Then it's needed to come every day to bandage change which is very hard to organize while she has a plaster bandage.

At the moment our family consists of three disabled people: my mother (she suffers from the ischemic heart disease), my daughter and me (Last summer I stayed and the hospital three times with thyreioid hyperfunction and violent hypertension. I also suffer from diabetes). At the moment I have no job.

Please help us if it's possible.

Thanks in advance.

Julia
---
October 19 -- E-mail from Russia with Love in Ann Arbor to Connie Meyer in Moscow (a very quick reply in order to move things along):
The plight of the mother and child is clear. Russia with Love will guarantee that we will donate the funds needed for the operation and followup.
It has been a privilege to know you Connie, and Pavel and your Moscow friends. We still hope that Americans and Russians can cooperate on many issues to make a better future for us all.
---
November 8, 2007 -- E-mail from Connie Meyer:
We went today together with Father Pavel to the hospital to pay for the operation which will take place 15 of November. The joint of the knee consists of several pieces of bones. One of the bones in Apollinarya´s knee is turning all around and she is in deep pain.
Julia is SO happy for your gift for her daughter.
The hospital is not far from their home. It is a hospital where sports people are treated and I think it is a good one. It looked clean and orderly.
---
December 8, 2007 -- E-mail from Connie Meyer

Appolinarya´s operation went well. She returned home 2 weeks ago. Infection came to the wound but it is taken care of in a very good way. The doctors at the hospital are very good. The professor will next week decide when to remove the gips Dec. 13 or 26th. Julia, Appolinarya´s mother, send many warm greeting for the support for her daughters operation.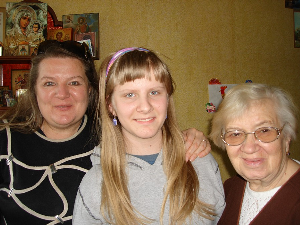 Apollinirarya (center), her mother Julia (left) and grandmother Irina.